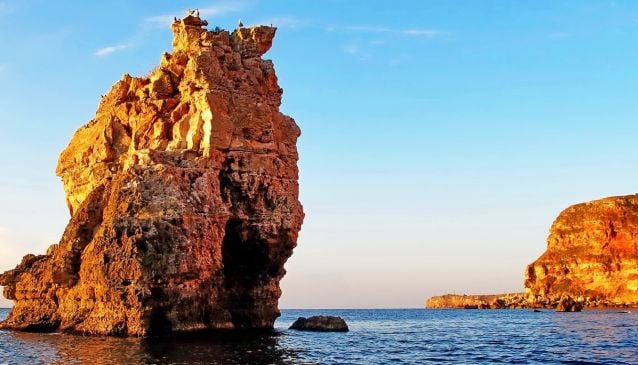 Surprises of the Northern Black Sea Coast
Adventure
The dwellings we saw there had been cut directly into the rocks thousands of years previously...
If the crowded, mainstream beaches of the big buzzing sea resorts in
Bulgaria
do not exactly match your idea for a great summer vacation, then you must be either a culture-loving, peace-seeking fellow or an adrenaline junkie who cannot live without wild adventures and Mother Nature's warm embrace… or both. In this case finding a suitable place where to spend your holiday can be a real pickle. But relax, we might just know the right spot for you – it's the region north of the town of Kavarna on the Bulgarian
Black Sea Shore
.
One major distinctive feature of this coastline area is its amazing landscape.
The endless wheat fields of Dobrudzha resemble a sea of gold that gives in to the overwhelming magnificence of the Black Sea in an epic sort of way. That's because of the sheer, rocky beaches that stand between them. We didn't even realise how gorgeous they were until we went for a boat ride early one morning and saw their rough, majestic silhouettes gently lit up by the bright red and yellow rays of the rising sun. And that was only the beginning. In the days to come our friends from
TRIP Kavarna
, who we asked for assistance, showed us a whole new world full of exciting stuff that lay no more than 50 km north of
Varna
.
Our first stop was Yaylata Reserve where nature and history had formed an unbreakable bond.
We went inside at least a dozen ancient dwellings that had been built by cave people several thousand years previously directly into the rocks hanging over the frothy Black Sea. Most of them had quite unusual designs and offered stunning views of the sea that took our breath away. Also, there were quite a few dwellings that had holes in the floors through which one could see the powerful waves crushing into the relentless cliffs below. Actually we even had a romantic dinner on candles in one of those rooms, all thanks to the great imagination and sense of humor of our dear friends from
Trip Kavarna
, who organised it for us.
Of course, we didn't get inside each and every dwelling because some of them were located in unprotected and inaccessible spots well off the beaten track. Nevertheless, we highly recommend these to keen climbers and extreme tourists who are not afraid of heights. With just a little help from the experienced local guides you will be able to witness pictures that are simply beyond description.
Apart from these unique prehistoric homes we also managed to check out the reserve's medieval fortress and go for a quick swim in the lucid waters of a heavenly beach hidden in a miniature nearby cove. Now, there are hundreds of such places along the coastline where you can sunbathe, dive or catch fish in total seclusion.
In the next few days we went for a couple of more boat rides during which we had the chance to explore some spectacular sea caves with oodles of surreal underwater galleries and tunnels. We marvelled at the chalky cliffs and white waters of
Bolata Nature Reserve
and even went to see the glorious natural bridge of Tyulenovo where the best cliff divers and climbers in the country demonstrated their incredible skills by performing a host of insanely difficult tricks. We also took advantage of the healing mud baths of Tuzlata, observed the famous bottlenose dolphins from the colossal Cape Kaliakra, and strolled along the golden beaches of
Krapets
that got us to the Durankulak Lake where we did some bird watching.
All in all, we had a remarkably variegated vacation full of fun and relaxation. In case you wish to emulate this experience, just pack your suitcases, recharge the batteries of your cameras and head for the Bulgarian Northeast. Then simply pick a local guide and enjoy yourselves.