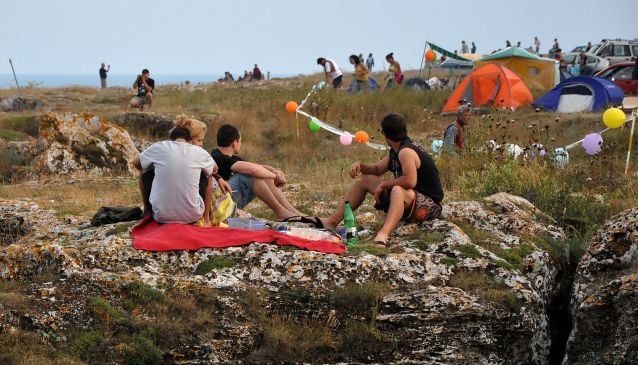 Camping on the Bulgarian Coast
Adventure
Sometimes we just feel the need to try something different, something crazy...
Aren't you getting tired of spending your summer holidays in a relaxing, yet totally uneventful fashion in big five-star hotels, surrounded by sterile luxury and somewhat isolated from other people? Well, don't get us wrong, we are great admirers of those posh resorts and all the fancy stuff they have to offer but sometimes we just feel the need to try something different, something crazy, like renting an RV and hitting the road, visiting wild beaches, camping under the stars and swimming with the dolphins.Or even, hitchhiking our way along the
Bulgarian coastline
, meeting tons of new people, listening to music and, basically, having the times of our lives. So, if you are anything like us you will love this article because that is what's in store...
Krapets is a little coastal village in the
Bulgarian
northeast whose tranquility and endless sunny beaches make for a perfect starting point for this adventure. Setting up a
camp
there should be easy, since there is plenty of space available and virtually no tourists. If you are into birdwatching, you can go for a leisurely stroll along the beach to the nearby Durankulak Lake where you will come across several rare bird species. Alternatively, you can just check out the local restaurants – nothing fancy, but the fish is delicious. Next comes the beautiful rock arch of Tyulenovo. This is one of the most attractive spots on the entire shoreline and definitely the most important for all dedicated climbers and adrenaline junkies who are mad about cliff diving.
Every year the town of Kavarna hosts a rock festival which we personally believe you shouldn't miss, no matter whether you like heavy tunes or not. There you will have the exclusive chance to see some living legends such as Deep Purple, Motorhead or Manowar, for instance. Also, if you happen to be in this region around the first of July, we strongly advise you to head for the steep cliffs of Kamen Bryag and take part in the
July Morning celebration
. No this has nothing to do with religious cults or anything like that. It is only the most symbolic alternative social event where a bunch of people wait for the sun to rise while listening to Uriah Heep's July Morning. You will certainly meet some authentic hippies here!
The first part of your improvised journey must end on the fine sands of
Irakli
, located in the central part of the Black Sea Coast. Its stunning natural features and crystal clear water will help you recuperate and get ready for the remainder of your trip.The end of July signifies yet another music festival - Spirit of Burgas. Its genre versatility and the fact that it is held right on the central beach in
Burgas
turn this festival into one of the hottest summer events on the entire Balkan Peninsula. Great, but then what?
Then comes the icing on the cake: the best
campsites
on the southern coast of Bulgaria. Have a refreshing cocktail or two at one of
Arapia
's exotic beach bars and after that go skinny dipping in the warm waters of the excellent nude beach near Kavatsite. If you are not too shy, of course. Take advantage of the golden sands and thick shades of the ancient trees of Koral and rest comfortably under Smokinia's cloudless blue skies.
The most appropriate way to conclude this glorious journey is by spending a couple of days on the peaceful and secluded
Silistar Beach
, where you can witness how subtly the turquoise Black Sea gives way to the green hills and lush meadows of
Strandzha Mountain
.