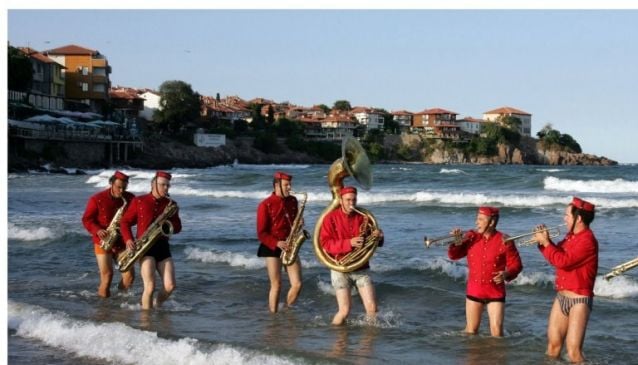 Apollonia Festival in Sozopol
Arts & Culture
The multifaceted nature of Sozopol combines cultural activities with mind-blowing modern adventures
Just when you think that the carefree days of swimming and playing in the turquoise waters of the
Black Sea
are over,
Bulgaria
finds a way to surprise you with one last warm sunbeam that chases autumn away and puts the big and shiny smile of summer back on your face. This isn't an ordinary sunbeam, though. It comes in a rather unusual shape and can be seen and felt by people only at a particular time of the year … it even has a name: 'Apollonia'.
Apollonia Festival of Arts is one of the hottest and most awaited annual cultural events organised on the territory of the country. It takes place every year in the period between the last week of August and the first week of September and attracts musicians, artists, performers, sculptors, writers, directors and audiences from all around the globe.
Its immense popularity is pretty much down to the fact that the festival has always been able to demonstrate its impressive versatility and create a magic atmosphere that everyone can enjoy to the fullest. A simple glimpse at Apollonia's programme is enough to prove that point. It is as varied and exciting as it can get. The list comprises an endless number of events ranging from classical, traditional and jazz concerts, literary readings, theatrical and dance performances to fine art exhibitions and film showings, all of which share one common goal – to promote culture and celebrate its great values.
But there is yet another reason for Apollonia Festival to be loved by so many people… and it has nothing to do with the schedule. No, no, it's all about its amazing location.
Sozopol
, the charming seaside town that hosts Apollonia Festival of Arts, is arguably one of the most ancient and historically rich spots in Bulgaria. It was established 13 centuries ago and has played a considerable part in the country's cultural life ever since. Today Sozopol has transformed into a busy sea resort where tourists can find a vast array of
attractions
.
The bulk of Sozopol's landmarks lie in the so-called Old Town. Its tiny cobblestone alleys, authentic 19th century houses, medieval arches, towers and fortifications, archaeological sites, quiet taverns and shops can impress even the toughest of crowds and are a real heaven for romantic souls and history admirers. This is also where Apollonia's gallery, cultural centre, museum and amphitheatre are situated and where one of the most significant archaeological discoveries in the world was ever made. In 2010 a group of scientists decided to travel to the nearby St. Ivan Island for some routine research. Little did they know that the alabaster box they stumbled upon there was actually filled with the relics of no other than St. John the Baptist himself. Today this precious exhibit is put on display at St. Cyril and St. Methodius Church in the centre of the Old Town.
But the multifaceted nature of Sozopol allows its guests to combine the cultural activities available in the Old Town with a mind-blowing set of modern adventures based in the town's ever-expanding new district. The New Town is in sharp contrast with the historical part of Sozopol. This is where all the luxury
hotels
, discotheques and sandy beaches are. Their bright lights and vibrant nightlife make for an unforgettable vacation defined by one word – diversity.
There are tons of interesting places to visit outside Sozopol as well. The resort is in close proximity to Bulgaria's most charming
campsites
and beaches and only few kilometres away from the wildest nature parks in the southeastern part of the country.
Don't worry about the
weather
either - the sky is always blue and the water is perfect for swimming… even in September.