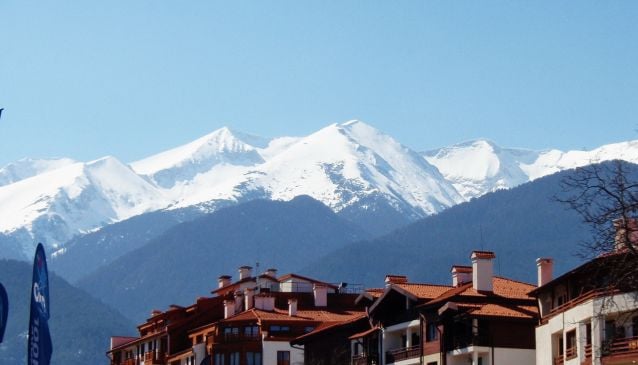 Bansko: The Snow Covered Gem of Bulgaria Part 1
Adventure
A view that will make you weak at the knees, enjoy the warming sun while the snow caresses your face
Nestled in the bosom of the Pirin Mountain, protected by snow-covered mountain peaks, Bansko attracts its guests with a myriad of skiing and snowboarding tracks, its authentic nature, regional cuisine and breathtaking surroundings.
You can get to Bansko by car or by bus, with buses departing hourly from the Central Bus Station or Ovcha Kupel Bus Station in Sofia. The distance is approximately 150 km with the trip taking around three hours by bus and two hours by car.
Winter in Bansko is the best season to experience its snowy charm. There is snow from December until April and this is the place to indulge your various winter pleasures.
Take the cable car to Banderishka Polyana or drive to Shiligamika to start your day ripping up powder in the fresh new snow. (To avoid early morning queues at the main cable car, which departs from Bansko, it is recommended that you buy a ski pass in advance.)
The slopes are well maintained (with a total length of 76 km) and in great condition, especially in the early hours when there are fewer visitors and you can ski from top to bottom as free as a bird. Most pistes are equipped with artificial snow machines, guaranteeing that you will not miss a day, no matter what the weather has in store.
If you have kids you can either leave them at the winter kindergarten at Banderishka Polyana or hire an instructor from the many ski schools found near the first stop of the cable car.
Once you have reached Banderishka Polyana, you have to choose which track to take; which is a decision depending on your skiing experience and adventurous appetite.
If you go for the new four-seater lift you will get all the way up to Kolarski Pat, which is an easy and an appropriate starting point for the day. It will take you to Shiligarnika – a popular place among skiers claiming to be experts on the subject.
From Shiligarnika you have several options. A great choice would be to choose the lift that goes up to Platoto. Once you get there, only lose yourself in the magnificent view that opens up before you and gives you the impression you are in the heart of the mountain for a second, as it's time to spread your wings and fly. A view that will make you weak at the knees, enjoy a seat in the warming sun while the snow caresses your faces. Once you peel your eyes away from the spectacular views of Platoto, you can take turns shooting down two very nice and wide tracks (No 5 and No 6) which will lead you back to Shiligarnika.
A more challenging option for ski and snowboard experts is to climb Todorka Peak, nodding politely and respectfully at the eagles flying overhead. The view here is breathtaking. Once there you have to decide which sleeve to use first. If you choose black Tomba (for the most experienced skiers) you can have a go at re-enacting the recent world championship!
Don't forget to try the biathlon and Nordic ski tracks. Though if you're more of a voyeur and find yourself there in February 2013, you may just spot the biathlon world cup taking place there.
If you are unlucky with weather and there is a breeze – which can be pretty cold at the top! - then get off the lift at Mezhdinna Stanzia and ride down Chalin Valog track. However, do note that this is only an option available to experienced and skillful skiers. This track is only recommended when really necessary.
When you start to feel a little tired and need a warm drink, or would like to get together with your friends, there are many small restaurants at your disposal at Shiligarnika and Banderishka Polyana. You can take your time, blissfully enjoying the winter sun and sharing your day's stories. But don't forget to take a little time to absorb the outstanding view!
For a bit of fun in the later hours of the day, you may fancy skating in the town (Pirin street) where the falling snow dances with you on the ice. If you are part of a bigger group and it's one of your teams first time on the ice, it's a experience you'll never forget! (Just remember to bring the camera…)
With eyes sparkling from the happy day spent on the slopes, the sight of the beautiful landscapes and magic of the mountain fresh in your mind, you'll soon be tempted by the various restaurants' good food.
With the day about to end, it's time for the pleasures of après-ski. But remember: choose your options carefully because there's another great day ahead with the beautiful peaks of the Pirin Mountains and the white tempting tracks of Bansko, the snow-covered gem of Bulgaria.
If you need to decide what to do after a wonderful day on the slopes, look at part two of the article: "Unforgettable Local Experiences With The Colourful And Emotional Evenings In Bansko".